| | |
| --- | --- |
| Posted on December 27, 2012 at 1:50 PM | |
By Dhruv Rao (Original Air Date: 22 September 2011)
Grey's Anatomy hasn't always been the best of shows, but however, it's plotlines and emotions add up to its success for the seven years in which it's been running. However, this time, for a season opener, they tried going against the main point of the show: firing Meredith. Then, with no delay of wasting time on her being unemployed, finding a solution for the unemployment. A temporary solution would be becoming a mother; however, the permanent solution would be to have her child taken away from her. 
The opener focuses on three plots: Grey's dishonesty and eventual firing,  the giant sinkhole in Seattle (Hence the name, "Free Falling") and Cristina's pregnancy. Although it seemed obvious that Mere had to go through some consequence for her dishonesty during the Alzheimer trial, it did give us an extra lil page in her person relationship with Cristina. Moreover, it gave her a small minute to flashback to her mother's times while explaining to Owen and Cristina.
("Okay, do you know what will happen to Christina if she has a kid that she doesn't want? It will almost kill her. Trying to pretend that she loves a kid as much as she loves surgery will almost kill her, and it'll almost kill your kid. Do you know what it's like to be raised by someone who didn't want you? I do. To know you stood in the way of your mother's career? I do. I was raised by a Christina. My mother was a Christina. And as the child she didn't want, I am telling you, don't do this to her, because she's kind and she cares and she won't make it. The guilt of resenting her own kid will eat her alive")
This leads to finally tying the loose strings from last season: getting the couples to live together and talk again. How can you lie to a social service? Making a few calls, we return to the fact that because of her unemployment and Zola taking turns in houses, Zola has to go back to social service and the adoption must be re-assessed. 
In the second part, Meredith disappears for most of the episode with Zola. Most of us think she takes her across the country like her mother did with Meredith. However, we finally discover that she stays in the storage closet for most of the episode. This switches the focus to Derek. He seems to be indifferent of Mere's firing but seems to care when she goes missing. But only for Zola. His emotions reach their peak when he screams at the nurse to page Grey once again. 
In the end, Zola is taken away from them. Then Meredith gives us one of her inspirational speeches, but this one is the most deep. On the whole, she tells us that we think that true life is the only thing that can take your life and ruin it, but then you become a mother.... 
What's moving about the final scene is the fact that Alex tries to comfor Meredith. He becomes the bete-noire of the hospital, with horrible breath. The sinkhole also plays as another way to show us how we can be on solid ground for a second, and how everything can just get screwed up. For example, Meredith's life. Now the sidesters...
Firstly, there's people who are with Grey. The chief steps down while trying to defend her, which shows how well they've mended their relationship. As Meredith's person, Cristina devises plans to help her on each step. Finally, Alex tries to comfort and help her throughout. 
Then, there are people who are against Meredith. First, there's her husband who's utterly disappointed at her dishonesty in surgery. Secondly, Bailey completely hates her shown once in the ward and second during her imaginary letter of recomendation for her. Finally, there are people who were indifferent towards her and tried to carry on in her life. 
In summation, the opener does a bold move by taking each problem from last season and solving it right away. For example, Yang's pregnancy and getting Alex and Yang back to friends using a small accident that almost killed him. The other move it takes is going against the title of the show by firing Grey. 
Grades: 
"Free Falling" : A-
"She's Gone" : B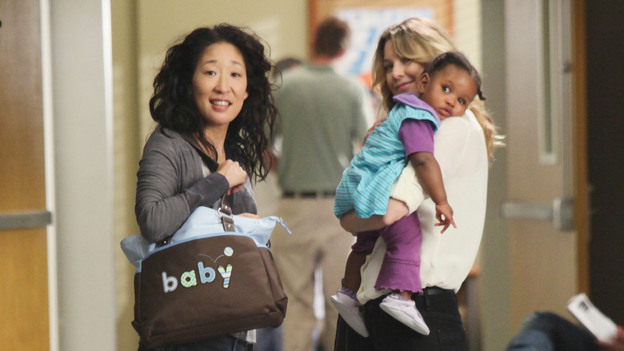 Categories: Other Shows