| | |
| --- | --- |
| Posted on May 1, 2015 at 6:45 AM | |
By Dhruv Rao
Raising a child isn't as simple as one may think it is. There are various different methods that different types of parents employ to get the children on their own definition of "the right path". Often, there may be arguments as to which method is a more effective way to raise a child. Tonight, The Big Bang Theory tackled this issue which several other sitcoms have discussed successfully in the past few years. However, as far as this show is concerned, the argument has some large twists where the characters prefer other mothers over their own. That little detail adds an X-factor into tonight's show that makes it enjoyable without reminding us easily of other shows' stories. After the episode aired, I immediately thought of the How I Met Your Mother episode "Murtaugh", in which Lily and Marshall argue over each other's parenting techniques while coaching a basketball team. The overall effect of the plot was above average, a grade which tonight's A-plot is worthy of.
Truth be told, tonight's episode was the first time in weeks that I actually thought this plot was thought of. It wasn't one of the fillers this show has gained a reputation for. Tonight's plot was definitely planned for a long time, since rumors of the two mothers meeting have been circulating since the show's sixth season, but the show could never get to it because Christine Baranski had her duties on The Good Wife. However, after all that planning, they finally got the two mothers together, and it was a delight to watch. All the scenes when Beverly criticized Mary's techniques were an enjoyable back-and-forth, especially watching the expressions shot between the ladies and Penny's attempts to make peace between them. The odd couples, i.e. Leonard and Sheldon, were just bearable, but I didn't really find their scenes as funny as those with their mothers involved, especially when you consider how we've seen and heard these jokes every time one of their mothers is in town. Other than that, the idea that Leonard and Beverly will try to mend their relationship as a culmination of the plot is a solid way to end the A-plot, as was the idea to introduce how Leonard could afford Penny's engagement ring. (Props to Kaley Cuoco on her drill noise with the ring)
The B-plot, much like the string of fillers that have aired, involved Howard and Raj without letting them interact with the A-plot. I'm not really a fan of such plots since we don't get to see the entire bunch of friends around the couch discussing each problem like they did in "The Indecision Amalgamation". The reason I loved that episode was because of the prolonged couch scene where each and every character present had a running joke in the episode. Tonight's disjointed B-plot stuck to the theme of raising a child by using Howard and Bernadette's unhealthy relationship. Bernadette has often been seen as the one who wears the pants, but you can't blame her for doing so: Howard isn't exactly "the man" in the relationship. He is portrayed more as a teenage boy locked inside a man's body, and you can easily blame the late Mrs. Wolowitz for that. She hasn't been around for a while, but ever since her death, the writers have managed to include her in every plotline. Tonight was no exception as Mrs. Wolowitz's treatment of Howard as a little baby created the problems faced in tonight's B-plot. It's a subtle point which I actually didn't entirely catch until Raj mentioned it while cleaning the refrigerator.
As far as I am concerned, this plot is a hit for portraying Bernadette as a little more patient and sticking with the maternal theme of the episode. However, it bogs down the momentum that the A-plot carried. It is only when the three men start to sing "Hard Knock Life" at the end of the half-hour. It brought the string of filler plots to a close as next week the season finale airs. I would like to see how the writers want to end this season of highs and lows on and some more Mayim Bialik please! It would have been fantastic to see her interact with both the mothers! Let's hope she can get some more air-time next week!
Grade: B+
Stray Observations:
- The argument between Beverly and Mary reminded me of the never-ending "Creationism VS Evolution" debate.
 - "I love you. I'm just embarrassed by the things you believe, do and say." Mary: "I love you too, my little bowl of lion-chow."
- If people don't follow the pants rule at home, there is no way they are going to start following others any time soon.
- Leonard: "You are a dirty double-mother-suckler."
- Sheldon: "My mom made me spaghetti with chopped-up hotdogs whenever I wanted, so who cares?"
- Mary: "I'm sure she loves you very much, in her own cold, Godless way."
- "Oh my son! Oh my mother! Oh my God!"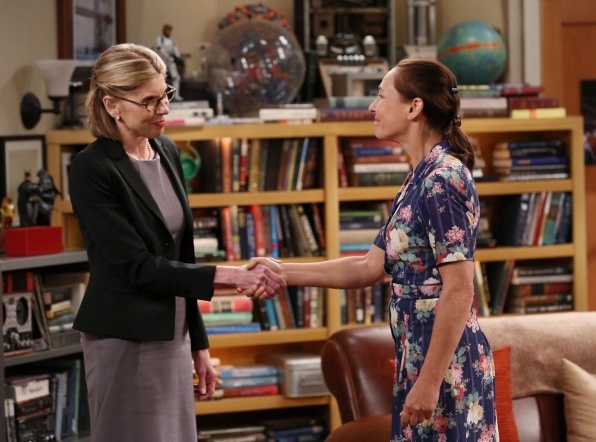 Categories: The Big Bang Theory