| | |
| --- | --- |
| Posted on October 22, 2014 at 12:55 AM | |
By Dhruv Rao
I commend the writer's decision to introduce a new chapter in Penny's career. Her frictional unemployment last season provided for many emotionally charged scenes and some hilarious episodes. Furthermore, this season, her career shift to a pharmaceutical company has given her a sense of maturity: a sense that she's lacked for the past seven years. Her financially stable position is easily attainable, and I am beyond excited for the writers to explore that in depth. However, this week, the writers took to task introducing Penny's new attitude towards work: an attitude so serious that she decides to study on a holiday weekend to Las Vegas. The setting is one with endless possibilities, and most of them including high dosages of comedy, just like this episode did. The overall episode was a simple evening of friends spending some time together with no actual plot advancement: a style of writing we haven't seen since it was over-used in the show's fourth season, AKA the nadir of The Big Bang Theory.
A plot situated around role-reversal isn't the most original trick under a writer's sleeve. We have all watched episodes during which a main character's behavior deviates from the norm. For example, in the Full House episode "The Trouble With Danny", the titular Danny tries his best to be the complete opposite of what he is: "a psycho with a mop". Likewise, tonight Penny's job interfered with her comportment: she stayed in studying over the weekend in a hotel in Las Vegas. (I love how each phrase in the previous sentence adds more emphasis on the point I'm about to make...) It was refreshing to see her take her new job seriously while the scientists sit in the bar, drink and go to a strip club. What Amy and Bernadette do while drunk is classic "big show" humor: jokes that are only employed by shows as big as Full House or How I Met Your Mother that remind us that the show deals with a worldwide fanbase. For example, only a show with a large fanbase would base an episode on how an intelligent scientist got drunk and wounded up gagging over Australian strippers. Meanwhile, the serious Penny was working in the strip club, while giving the strippers a good condescending and inifferent look: a fine example of how great of a comedy actress Kaley Cuoco is.
The second, mediocre Focus plot discussed how the guys have diverted from their intellectual conversations and new inventions to small talk and gossip. This change in topic was due to the girls' presence in their life, so they decided to eliminate that factor in order to get some work done. These little moments when the guys revert to their geeky, nerdy state is due to an apparent change of heart in the writers. However, after slowly abandoning that genre of comedy, it isn't easy to bounce back. This episode is a perfect example of why the writers should stick to their new formula, which is taking them places. The jokes were funny, but after viewing many episodes of sophisticated comedy, they seemed relatively bland and immature. Sheldon and Leonard's little squabble for what could be considered as a tangent was funny, but it would've suited the season four version of the show. However, Raj's eyebrow joke was hilarious. The humor considering Raj has always evolved, and that's what I love about it. The smartest thing the writers did was elminate his selective mutism and place him in awkward situations with women. Furthermore, the writers finally picked his love life up, got him dating, and created more jokes on how feminine he is. 
The overall feel-good and have-fun vibe of the episode was prominent, and it stuck with me throughout. Another interesting plot trick used by the writers was making Leonard and Penny the serious ones in each group, instead of Sheldon and Amy. It's intriguing to see how their engagement shadowed a sense of responsibility and maturity on them...
Grade: B
Stray Observations:
- Sheldon really needs to learn what 'sexting' is.
- Raj (to Howard): "Boy, when you met Bernadette, the field of robotics really took a hit."
- IF the guys discover how to master the hoverboard, they can make Andrew from A to Z really happy.
- Everytime someone goes off topic, they get their arm hair yanked off.
- Amy (to Bernadette): "How big are those Hadron colliders?"
- Amy: "We had some pretty hot corpses in my anatomy class, but none of them moved like that!"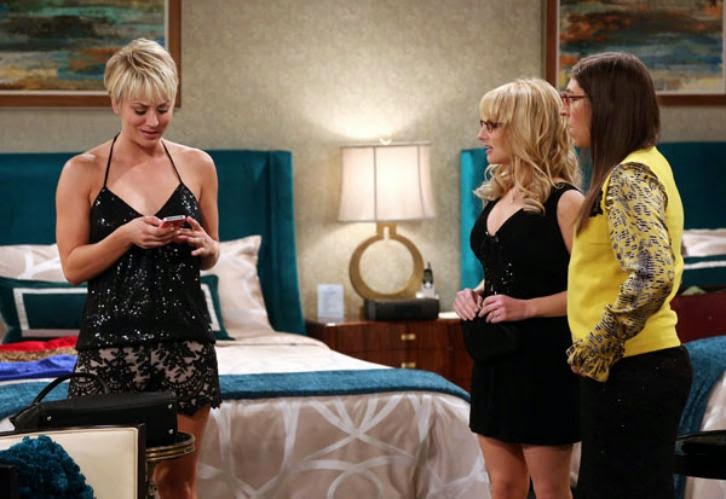 Categories: The Big Bang Theory