| | |
| --- | --- |
| Posted on April 1, 2014 at 3:55 PM | |
By Dhruv Rao
There are a lot of opinions out there on how this show should have ended. As far as I am concerned, as a critic, this ending wasn't the one we predicted, expected and hoped for. Rather, this was the ending we deserve: an ending that employs naturalism, a movement of literature- one of my favorites- extremely well. I know I often speak of naturalism on my blog, but it is a key element to any form of entertainment. The How I Met Your Mother finale was more of a reality check for the viewers who lose themselves in the show (shamelessly, I was one of them). We used to forget the world when we watched HIMYM. However, Carter and Craig made sure that everyone gets the message: Life isn't perfect. And it's the "larger than life" theme that works well for the writers as they make a short coming-of-age "film". 
Research shows us that half of the marriages end in divorce. Why should this one be any different? Yes, there is the counterargument that we spent an entire season around this wedding which ends in divorce ten minutes into the finale. But that divorce means more than just undoing the events of the past season: it shows us the real face of the world; a face that the show often hides due to its label "sitcom". And here the writers fearlessly create a dramedy out of the show by including a reality check with the jaded characters of Robin and Barney. The rest of the episode works a lot differently for Barney than we had expected: he reverted into his original, unattached, non-commitment shape, but there is a ring-in-the-neck moment during the second half of the finale when Barney announces that he got a lady pregnant. His redemption scene was truly beautiful, as was the idea that it was no one but his daughter that could make him a responsible adult. A single parent is something we all have seen, and the writers want to make sure that their breakout character has more nuances in the finale than he did throughout the season- a good stroke of writing!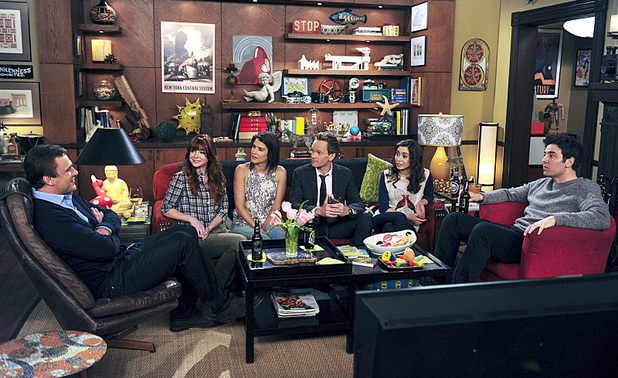 Robin, on the other hand, goes back to stage one in the finale. After the divorce, she dives into her career, which takes her places, and distances herself from the gang. It's important to note that the writers beautifully transitioned her out of their lives, and abruptly placed her back in Ted's life for her to be his partner. The final scene did have a huge amount of controversy linked to it, but I feel that the writers are just expressing that life isn't perfect, but you can't whine over its imperfections. Ted did lose his lover, like Tracy did, and he also moved on a few years later, like Tracy did. It's a cycle they've shown with fleeting dialogue and a twist in the story: Ted and Tracy got married after having their first child. It's once again a mirror on the modern way of living, and it's inspired: Cobie got married after having a baby. The point of the episode and the series was to show Ted's journey, not his destination. If you've been thinking of the mother since season two, you've been watching the show incorrectly. Yes, there is a correct way to view Ted's narration, and that is to see it as a man who struggled to find love, and once he found it, it ran away from him. If you think about HIMYM that way, you will undoubtedly admire the finale's outcome. However, as a viewer who has been invested in the title more than the actual art, you would call C&C "shitty long-term planners", as Todd Van Der Werf bluntly did. 
I am more on Donna Bowman's side of the equation wherein I think no possible outcome would have satisfied the viewers. You simple cannot nail a finale from start to end without the fans complaining about continuity, character development and how the show was rounded off. And that, my friends, is the beauty this finale mirrors. The writers knew they couldn't make it perfect, so they decided to do the complete opposite: they turned the tables, reversed the clocks, and gave the fans a stellar shock. (Hey, that rhymed!) I think that final scene was the perfect resonance to the show's debut, thus proving that the show had gone through a full circle: Ted is somehow back where he started, but his life will never be the same. As The Walkman's "Heaven" plays its "remember, remember, all we fight for" tune, Ted and Robin remember that this whole story was about them, and Robin was "the one who got away"...
Grade: A-
Stray Observations:
- The episode gets an A- due to the fact that the mother's demise was dealt with very lightly. Throughout the season, the writers made us love her, and then they expected us to forget her and let us be fine with her parting. Ted's mourning is something that would have added a lot more into the finale than anything else would.
- The first scene of the episode was a perfect way to start the finale. The details were taken care of, and it kept its continuity straight.
- "High Infinity!" and "ET Goodbye?" are some of the things that you would expect from a C&C-written script.
- Barney: "That last girl: number 31..." Tracy: "What a pretty name! Is that French?"
- This is why I love Ted and how great of an actor Josh Radnor is: "Just be cool, lady. Daaaaammnnn!"
- Tracy took the group's picture together at Ted's wedding, and she's the one who convinced Robin to attend the ceremony.
- Our How I Met Your Mother coverage is finally coming to a close. I have to admit that it is avery emotional moment for me: as I amdelivering this message, my fingers are shaking, and I keep on making principal errors. I devoted two years of my life to this part of the TV blog, and I am very proud of every article that was published. To anyone who spent even five minutes of their time to read any article on this website, I thank you from the bottom of my heart for appreciating the passion for writing I hold within my heart, that courses in my veins, and eventually ends up online...
Categories: How I Met Your Mother