| | |
| --- | --- |
| Posted on January 20, 2014 at 9:10 PM | |
By Dhruv Rao
How  I Met Your Mother has run for a sufficiently long time for it to do an episode as an homage to the old days. It's just amazing to see the writers, in this case writer (Chris Harris), give the series such a beautiful sendoff before the 200th episode next week. Last week didn't have a great response from many fans and outside viewers, but this HIMYM will be installed in the series as a mural, much like some stellar episodes referred to tonight ("Game Night" and  "The Possimpible" are good examples).
We get a lot of information tonight, and it's not easy to soak it all in during a half-hour, but that's the beauty of the show. They put in some fillers to tickle our funny bones, but at its core there's a heart (reminds me of the theme song of Full House). Tonight, they let the heart shine and, boy, were there some sparks. There was the lovely confessions made from Barney, both humorous and emotional, which stirred the audience's emotions as they finally got the answers to all their questions, but it made them realise that the show is embracing that there isn't any time left: answers must be given, without any delay. 
That's how life works, either you can convince yourself that nothing's happened and continue living in the past, or you can embrace change and modify yourself to make sure that this change benefits you positively. The writers have really tried their best to shell out some amazing episodes over the past few weeks, and that's been great to watch. However, after having seen Unpause, none of those episodes even stand in the race for the best episode of the season. It worked well on the HIMYM scale, i.e. it had flashbacks, flashforwards, references, comedy and raw emotions that were almost tangible. It also worked well on the TBBT scale: it had its own funny moments, but the comedy didn't crowd out the effects of the big scenes tonight.
The first I would like to discuss is Mother-related. We have all complained about how we rarely get to meet the mother, but right after they put Cristin's scene in the cold open, we all screamed Hallelujah! for the remainder of the episode, as the inclusion of the mother somehow makes any episode ten times better than it actually is. We've gotten Ted's life after the wedding in our minds, but now it's playing out perfectly, and that's what makes it count the most. Tonight's episode showed the Mother's second labor, which will happen in 2017. Isn't it so subtle how they finally revealed the names of the kids who've been sitting on the couch for all this time? Well, it is my proud honor to present Penny and Luke Mosby! Ok, back onto the topic, what made that scene so important was how it also occured at The Farhampton Inn, which is apparently a big place for everything in the gang's lives. We see Ted at the happiest he can be, and inside, we are relieved that Ted's sappy dark stories are almost over, and that it won't take him long to meet The One.
There wasn't really an A-plot and a B-plot tonight, but instead two parallel storylines of equal importance. The introduction of Barney's story tonight wasn't what we were hoping for, but it added comedy into what would've been a drama with the other plotline. The writers answered questions which have run for the series so long, but they didn't put emphasis on most of them. Except with the matter of Barney's job. Apparently, "please" stands for Provide Legal Exculpation And Sign Everything. So, he was never denying the question, he just responded to it unaware that nobody understood the corporate jargon: he basically takes the load for the firm's illegal actions. What was amazing to see was that Barney and Robin finally got their confessional moment as well, when Barney reassured her it was a Ring Bear-er (the closing scene proves that he was lying) and then they told each other that they loved each other. Barney's complete, and the wedding can run smoothly now...
Except for one thing, of course. The maid of honor just left the hotel in the middle of the night. Why? Lily and Marshall's impending fight has finally come through, and this one is a biggie. They paused the fight two episodes ago, and now that's unpaused, they have ruined the situation by the remarks Marshall made towards Lily's dream/hobby. I think the San Francisco issue of 2006 isn't behind them, but it surely does raise a question: would Lily have come back if she were to have found success in SF? That's when she leaves, and Marshall is just shocked. That's raw emotion right there. That's why any type of viewer would love HIMYM, that's why we love HIMYM. It's not what happens at the end, but it's about the journey, the leap and the company you keep throughout...
Grade: A
Stray Observations: 
- Marshall's favorite segment of the night: "embarrassing souvenirs I picked up from Ted's childhood home."
- Barney's drunk levels: Richard Dawson drunk, big plans with strangers drunk, and finally, the one which resurfaced a lot tonight, Jaba drunk.
- Barney didn't do anything to Ted's mom! We finally get the answer: they didn't get to second base.
- How does future Ted measure money? "One crapload!"
- Barney: "Yes, but not when she was secretary of state." Let's not jump to conclusions, shall we?
- MIT stands for the Magician's Institute of Teaneck. ACTs stand for Advanced Card Tricks. Finally, Barney's job ,PLEASE, stands for Provide Legal Exculpation And Sign Everything. 
- The Barney Stinson Is Awesome song returns! 
- If you were to analyse the situation correctly, you would realize that Ted asked Barney the question "are you nervous?" as an excuse of getting a wedding jitter that might put Ted back in the race. Sad for present Ted but fortunate for future Ted as his second son Luke is born...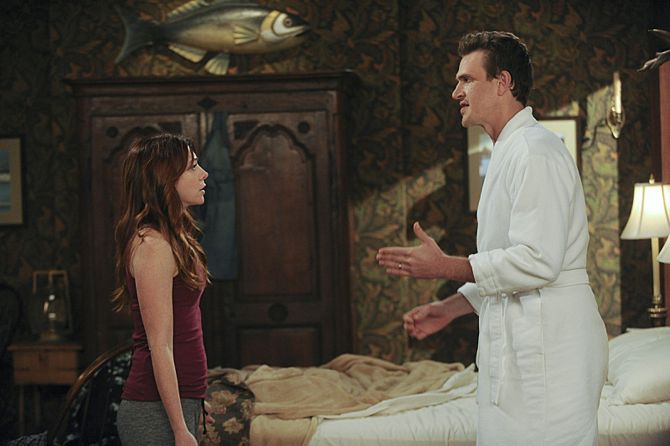 Categories: How I Met Your Mother