| | |
| --- | --- |
| Posted on January 31, 2014 at 5:25 AM | |
By Dhruv Rao
A sitcom's ability to extend a plotline through many episodes without making it seem tedious is what makes it deserve an emmy. How I Met Your Mother is the perfect candidate for an outstanding series in comedy; however, people only want raw comedy without any emotions, continuity or cultural references in the mix. The Big Bang Theory is a perfect example of a series whose continuity, along with its character development, is loosely packed. The characters' past is never discussed in details, but there are exceptions such as the season 3 episode which was narrated through a series of flashbacks. Critically, it was acclaimed; however, commercially, it didn't fair as well as the recent episodes which have raw comedy with an essence of lethargy in terms of development. This episode works on both ends of the spectrum.
The A-plot droned about Leonard and Penny's ongoing dispute regarding minor and some major things. The episode started off with "previously on the big bang theory...", indicating that some sort of continuity should be present in the episode. However, the actual essence of the episode was missing, the jokes were off, and the end result was unsatisfactory. It took me quite a while to get this article done because this week's episode didn't feature some of the show's best moments. Instead, the writers took three separate stories and stretched them until we could no longer take it. I mean, when you compare a show like How I Met Your Mother to The Big Bang Theory, you have got the pros and the cons. Firstly, HIMYM's storytelling has an elegance and style which TBBT has yet to acquire. However, HIMYM's semi-dramatic environment tends to overpower its sitcom features. It's a never ending battle (critically) between romance and comedy. Commercially, emotional doesn't work out, but catchy and funny does. That's why TBBT  doesn't have to worry: they have 20 million fans regularly checking in to their on and off jokes every Thursday.
In season four, The Big Bang Theory's plots had reached a nadir which they didn't recover from until mid-season five. However, even now, there are these kinds of episodes which are nothing but fillers in a non-coherent season. The two minor plots involved a missing comic book and a workplace situation. I quite liked Amy's situation with Bert becuase of his awkwardness and Amy's naivety. The fun pokes at the character's personalities are TBBT's cup of tea, and they didn't leave this opportunity to poke fun at Raj, Stuart and Sheldon. Amy's defending nature towards Sheldon and her agitated nature towards Bert is what drives the entire funny part in the episode. I rather bemoaned the C-plot regarding Stuart's jealousy for the other comic book store, but Bernie shined with her anger issues...
Sorry for the very short article, folks! I've been caught up with some school stuff, and it's been kicking my writing time out the window. Let's hope I can get my timetable sorted. Also, let's hope that TBBT's following episodes are better than this..
Grade: C
Stray Observations:
- Sheldon's dog-like conduct this week is a perfect example of why Jim Parsons deserves all the emmys he's gotten.
- I love the mini-sequence of Raj ridiculing Amy for her love life, realizing he doesn't have one of his own and then putting the blame on Howard.
- Sheldon's peaceful environment is the CERN supercollider.
- "So, we tell him she's a lesbian?" "Of course we tell him she's a lesbian."
- It's frankly odd to see Josh Peck being a jerk after watching his work in Drake and Josh.
- Bernadette's anger while ordering the coffee and the comic is pricless.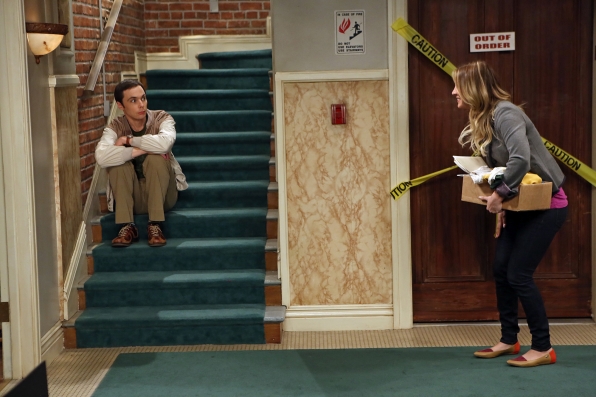 Categories: The Big Bang Theory