| | |
| --- | --- |
| Posted on December 3, 2013 at 2:45 AM | |
By Dhruv Rao
I had never expected that HIMYM could pull off better tricks than "The Robin" and "The Bro Mitzvah". I guess we undermined Carter and Craig, who have always fully used their talented task including the magician Neil Patrick Harris. It was amazing to see Barney acknowledge his Canadian lineage for a night just to make Robin happy, but it is striking that the writers would give up their breakout character's characteristics in the show's final run.
The episode had started in one of HIMYM's favorite ways: right at the climax. It has been conventional that the writers would narrate the entire story through a series of flashbacks, which is basically the premise of the sitcom itself. I just wonder how much fun it would be to shoot the scene when Barney revealed the Canada-themed rehearsal dinner. Speaking of Canada, the series of racist jokes from the gang brought back memories, especially when Barney visited Tim Hortons back in 2009. The flashbacks made the episode what it was: a HIMYM classic. Much like "Platonish", the episode used known topics to create comedy and then the sparks flew...
Now, let's discuss the plot, shall we? This week was Barney's response to Robin's badass bachelor party last season. It was another nifty trick the writers pulled off while displaying the fluidity of the script. The episode was another proof of the "square" character Barney acquired last Christmas when he gave Robin the ring of her life. The reason us viewers are not worried for the union is that Barney hasn't really changed. He got Robin with a play instead of being a Ted. The contrasting emotions about Robin's native Canada are what remain in the viewers' minds once the half-hour proudly bows down to welcome a mediocre 2 Broke Girls. 
Meanwhile, the writers become nostalgic and remind us that the Lily who blabbed back in season 4 is still there. She still can't keep a secret, and we've got an example right after the declaration to verify it. However, she is managing to keep one secret: Ted's big move to Chicago. I can admit that she is doing a huge thing keeping that secret with her although her own life is in two places. She loves Marshall, but she also loves art. Just because of Marshall's judge acceptance, Lily's efforts to acquire a knowledge on the Italian language went down the drain. Furthermore, as the maid of honor, she brought Robin (the bride) down. It seems like the drama is hyped to a level which a regular sitcom could never pull off. TBBT can't create drama because the writers don't know when to insert the laugh track and when to omit the comedy from an episode. However, a sitcom does require comedy, so TBBT is doing its job.
Now, let's move on to Ted's role this week. His douchiness takes a new turn, and now he's wearing a Liberachi coat. His piano lesson lasts two minutes, and the rest turns into a highly energetic football game. However, he does know about the ice-skating rehearsal dinner, so he plans accordingly (figure kating lessons). It was really funny watching Ted be professional for a second and then falling down like a Klutz. This just shows how well the gang has been paired up, even if the love triangle issue is still under resolution.
@ActuallyNPH stole the show with his plan to top the bachelor party from Robin. Barney first broke Robin's heart just for a bunch of puppies. However, for the entire episode, he was adamant that his perfect idea of a Laser Tag rehearsal dinner was waiting for him. Dang! He's the best actor I've seen in so long. Now, when we discover what actually happens, the "Let's get this party started" button brings the episode back to life. I have a feeling that this season is going to be a lot more bigger than what we think it should be...
Grade: A-
Stray Observations:
-James' singing face comes alive: he's half Robin-Sparkles this time.
- Robin's "pretty mad" face is similar to her "pretty hungry" face.
- "The only poll I care about is in my pants." That's classic Barney
- "Hotdog on a stick on a bun!" aka one of Barney's worst ideas.
- Ted: "Canada? Are you registered at Tim Hortons?"
- Barney labels "deal" and "but" during the conversation with Robin.
- Lily's italian is self-explanatory.
- The "No, she isn't." is timeless...
- Lily can't keep a secret: Debby is pregnant, getting a divorce and got cheated on!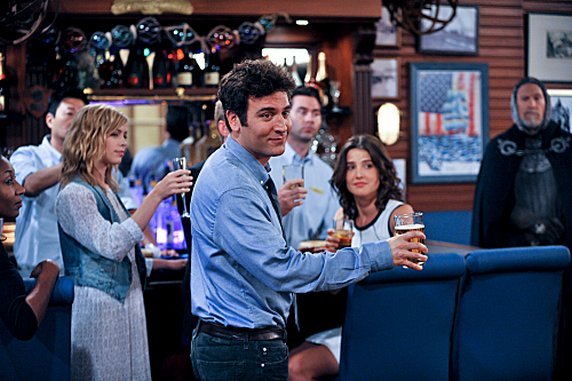 Categories: How I Met Your Mother