| | |
| --- | --- |
| Posted on November 19, 2013 at 2:35 AM | |
By Dhruv Rao
It's never playing ball with HIMYM. Ever since 2009, an episode has meant more than just sitting on your couch and laughing as the writers smoothly glide you through a fresh story. It has meant complexity, i.e. how much continuity has to be put in the show for it to run. And that's when the not-so-thinking people tend to create a fuss. They're not fans, but they intend on watching every single episode and criticise it. However, this pressure has never gotten to Carter and Craig: the dual-powered machine that runs the show. Their writing skills have always been a pleasure to see on the silver screen. 
For the last two weeks, many of HIMYM's fans said, "That's why they deserve the emmy!" After having watched last week's stellar episode, I will have to agree with them. Not only did they reveal the background to Barney's biggest and most romantic play, but they also managed to get the mother involved. On the contrary, this episode didn't feel as great as its preceding ones. HIMYM's strength suddenly became its fatal flaw.
I was most disappointed in the lack of Pineapple action. The promotional photos provided by CBS gave us hint that was just a filler dialogue, nothing else. Ted's plot this week subtends from The Broken Code's final scene. William Zabka devises a plot to get Ted out of the best man's position, only because his mother finally thought he was fit to come home for Thanksgiving. Lily wasn't doing much as well, except for the bit when they both realize that Zabka framed Ted and ran to jump on him. So, overall, this plot was dissatisfactory.
The A-plot got very intense when it came to Barney becoming crazy one again. The idea of each parent getting back together was realistic. The dream sequences were a treat to watch, especially when Barney ruins James' sequence. The elevator joke did get awkward towads the end, but we managed to hold through with it. But the funniest part for me was how Barney's step-mom reacted to the parasailing invitation, i.e. making her disappear so that Jerry and Loretta could get back together. However, The C-plot made the audience bawl. Daphe has finally disappeared, so Marshall should be at Farhampton Inn within the next two episodes. It was so touvhing for Daphne's daughter to smile at her then talk poisitively about oil, which led to a quick exit from Marshall.
Overall, the episode didn't fit into the rest of well-produced HIMYM episodes. There was a lack of flowing in dialogue and use of characters: what were Lily, Robin and The Mother doing at the time?
Grade: B
Stray Observations:
- "Children don't understand logic; they only understand who shows up" is a backed-up theory.
- "My calligraphy ink!....I mean, the Gretzky photo!"
- Isn't it odd how everyone throws popcorn at WIlliam Zabka? Even in the middle of the forest...
- "You guys disrobe and send the wet clothes up."
- Reverand Sam changes the way he says Loretta now.
- Loretta recognizes more than the faces in the graphic video tape from the '80s.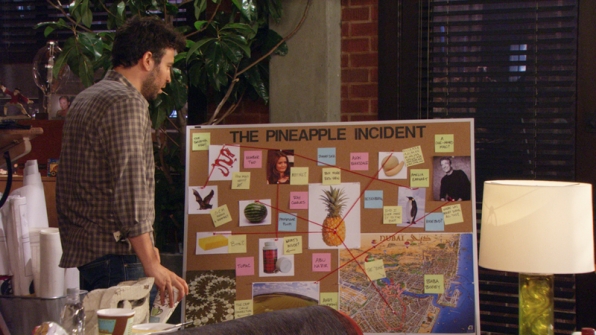 Categories: How I Met Your Mother