| | |
| --- | --- |
| Posted on October 14, 2013 at 8:35 PM | |
By Dhruv Rao
It's a known fact that before a wedding, the bride goes through a stress phase. Her mind explodes due to everpresent jitters trying to eat her alive. One of these jitters is trying to get along with the new in-laws. Your husband may love you more than his own life, but when it comes to the in-laws, they will test you a hundred times before their approval comes in. This time, Robin doesn't get pressurized; she simply gets rid of what annoys her. James is talking a lot about marriage, so she wins his ring through gambling. Loretta is being a b**ch, so Robin plays a nice game of poker to get her dignity out of her.
This brings Barney in a dilemma: picking sides between his family and his bride. Lily reasons that happy life and happy wife are just about tantamount. The writing her is natural, especially when Barney calls Lily fat and she waits until he's back from his honeymoon to kick him in the nards. The entire plot culminates in Barney breaking his family bond for Robin, and Robin then apologizing to Loretta. There should be some action between them further along this season. 
The second plot was the far better one this week. Lily 's anger for Ted forgetting to get them a wedding gift brings about a series of flashbacks. Ted's douchiness is paired with Marshall's try-hard abilities. That's where the comedy was mainly generated this week. HIMYM's strong point is its continuity: the writers are always careful about certain facts due to contradicting facts in previous episodes. The image which caught my eye was Katie Holmes (as the Slutty Pumpkin) was right behind Ted, who was being a douche for not getting a wedding card.  However, in many ways, Ted is an amazing friend: he's getting RnB three wedding gifts while he managed Gazola's (four years ago, Ted and Marshall puked a bit afterward) delivery boy to get Marshall his pizza on the road.
The over-phone convos and the quick interactions between the characters are the key for a season stretched over 3 days. It would not be baffling to see any main character enter the lobby or bar, so the writers gave themselves a chance to build up a wedding and completely round-off the plots so as to leave minimal loose knots. However, at times, the plots may have no relevance to the actual finish of the show, such as tonight's A-plot. The plot was funny yet redundant. 
The non-linearity in the episodes hasn't been revealed yet by the writers. We were promised that along with some Mother-action, which we are not getting. This is one complaint I would like to register that the viewers need a minute of Mother time at least every other episode. I would agree that this week had nothing to do with the Mother, but last week's episode would've been much better if there were a Mother scene in it. These small inclusions is what made the show something special, and these small inclusions are the big plots. The writing here is light and supported with the comedy, the episode was one of a pure sitcom, not a comedy-drama show. The Staurt-Claudia plot is also very interesting as to what happened between them. Not the best episode from HIMYM, but nice going Carter & Craig.
Grade: B+
Stray Observations:
Marshall wants to go to Gazola's even though he got food poisoning from there a few times.
The Stinsons always say the word "bluff" in conversation while bluffing.
Ranjit drops his spectacles to look at Loretta after Robin gets her blouse back.
Barney: "Please don't play strip poker with my mom again. It's all kinds of confusing."
Barney's back to his old days when he makes jokes about what to do in the room for the rest of the weekend.
The season 7 plot wouldn't have existed if Ted wasn't a douche at the Halloween party. 
Ted's douchiness turns a new color while he was writing the thank-you cards.
I much enjoyed the flashbacks. HIMYM never goes wrong with 'em.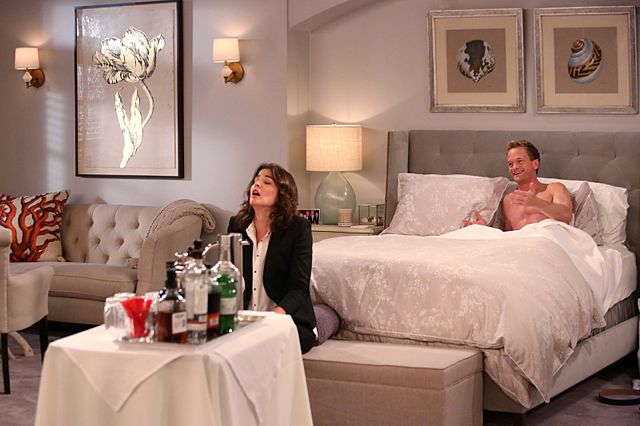 Categories: How I Met Your Mother