| | |
| --- | --- |
| Posted on December 11, 2012 at 9:20 AM | |
By Dhruv Rao
In Biology, we learn that our body is a delicate mixture and that everything needs to function properly to give us proper health. Such interdependence is also one of the reasons why TV shows rarely mix their ideas, plots and emotions correctly. For example, tonight's HIMYM. Theirs was the concept of an over-correction and the emotions that we all like, but there was a dragging and silly plot that just pulls the episode's grade down. However, small continuity details push it back on top while showing us how silly details count. 
Let's start with the simple idea: happiness. Does Barney find it with Patrice, or is he using her to get back at Robin? The way how we put ourselves on top when a door closes is natural, and Robin's problem is that although she proclaims that she's strong and Barney's weak methods are just prevailing. It's pure class when an arc can generate many chic episodes; however, it's revolting when an arc creates a small game of Hide and Seek. 
i) "We're a family...with benefits."
This is a small tin in the episode, but it isn't okay. It starts with Marshall and Lily arguing about where his mother should stay. We all know how strained the two women are, but back in season six, when his dad passed away, a glimmer of hope showed up. But it isn't long before she asks Lily for advice while criticizing her looks, even though her own son likes it. 
Lily tells her that any sweater with a horse or made of horse hair is off the table. And I agree with her, eww, yet comic. So, she then tells her that the gals have to show, AKA the Minnesota Twins. Nice MIL and DIL joke there, HIMYM! However, she meant that she would get a man, date, and then move out. Isn't it obvious yet ironic? 
Marshall mistakes her and Mickey's sex screams for her affection for him, he goes in with Marvin as a small funny moment when he catches them red-handed while doing it. Therefore, he also hides in the closet. This leads to a small uncomfortable and somewhat comforting dialogue with his mother, then his wife, who ends up puking in Ted's mini-cooler. But, then, they both also hide in the closet after a small chit-chat with their parents. 
ii) "Legen...Mary"
Barney and Patrice are center-stage this week, but aren't doing so well. Although Patrice seems so warming and cuddly, this thing isn't working out. I mean, how does a man have so many mini-maneuvers leading to special edition books? Although, that's really cool. So, the entire story is mainly centered on one day: the day of the christmas decorations. 
Barney and Patrice start with their small-time decorations for X'mas, but are interrupted by Robin's ruse of placing the playbook on Barney's bed while trying to prove it to Patrice that Barney's doesn't care for her. We get one small example from my favorite episode and that shows us how spouses cheat on each other. That's the highlight of the show, guys. 
But, there's another, Neil Patrick Harris as Hugh Hefner. Funny, but not the cherry on top.
So, this creates a medium of closet calls between 4 people who sneak into Barney's apartment. Robin's there for the playbook, Ted's there or his property and Lily's there for her breast milk, only one who has a proper reason to be there. Marshall just choking himself in his own closet to avoid contact with the new love birds.
So, when they try to sneak out, and somehow they are never caught in the episode, they go back in one of the closets and see Barney profess his true and deep feelings for Patrice. And that's gold, on top of a cherry...
So, the episode was more or less average based on how it was used, but its theme will remain in our hearts for a while. In my words: "If you care about someone so much, then why don't you let them be happy with the decision which they made. After all, you should just care if they're happy."  Even further, Ted's mini-theme about borrowing is a beautiful way to express his over-correction for Victoria. We all make over-corrections, but we should learn how to live with them and adapt to a symbiosis. Now, let's stop with the theory and get to the point that the episode got a small advancement in the plot required. 
Grade: B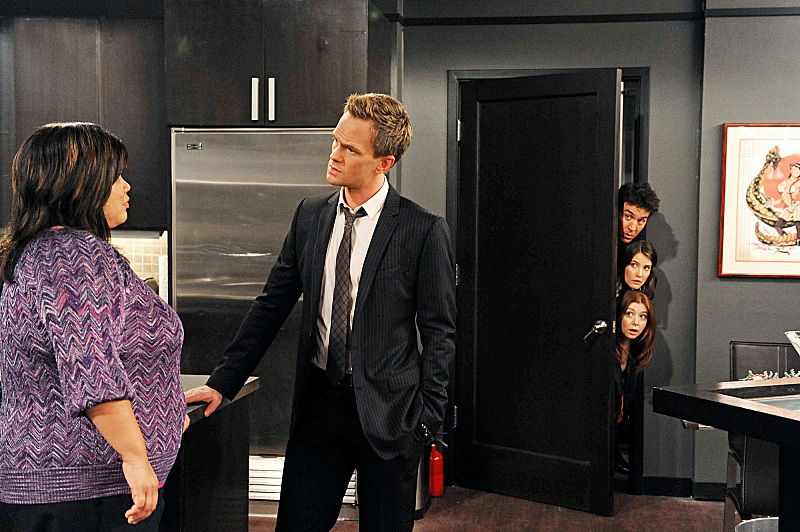 Categories: How I Met Your Mother