| | |
| --- | --- |
| Posted on November 13, 2012 at 2:20 PM | |
By Dhruv Rao 
It's Diwali today, so I would like to take moment here to wish all my fellow Indians Happy Diwali. I hope your crackers are bursting, fuljadis are burning, and hope you've all got your gifts. Moreover, let's not forget those Dairy Milk bars which help us gain a few pounds as well. True joy, true festivity, all in light. Moreover, Robin and Patrice have their BFF "Diwali" day as well.
I am a sort of sucker for classic moments where emotions somehow turn into comedy. It really is great when Barney shows his true deep feelings for Robin as an act to break them up, which eventually does succeed. However, the heart-wrenching moment comes next, with them almost kissing then being ruined by Patrice. I have never seen a dull and unfunny moment when she's around. The main topic tonight was intimacy, and how it may affect our lives...
i) Robin and Nick:
We finally discovered why Robin and Nick are actually clicking, its because of the sex. Nick's abs just distract her too much to actually notice that he's a dolphin. Or, as Lily says it, "Hot as crap, but just as thick." So, when Robin discusses her problems and blames Marshall for Nick's tear, she shifts the blame (as usual, another continuity plus point...) to Marshall while its her fault that she never actually talked to Nick. The first time she tries to dump him, she sees his abs and staring at them while he does some sit ups. The second time; however, she isn't really successful but she succeeds. It's just how fleet the writing is that it shifts Robin to Barney's side within a minute while we still feel sympathetic for Nick because he won't be able to play for Marshall's team anymore. And thus, this concluded "The Autumn Of Break-Ups." We had some funny moments in there, such as Nick's answers. "We aren't working out as a couple." gets a reply of "Do you mean you want to go to the gym together?" And apparently, he still gets two more chicks who also get dumped at the bar.
ii) Barney:
This isn't the first time he's the scene-stealing actor, but it is the first time for Robin. He tries his best to help his friend/bro/lover to get out a relationship with a vanilla-scented candle eater. So, he prepares the ulttimate trap: an invitation to Patrice for a BFF bonding day together which will automatically be sent if she doesn't go over to Splitsville to break up with him. She gets tempted, and finally tries. He forgets to cancel the invite, but remembers to give the best speech anyoner has ever given to help a friend, "I love everything about her, and I'm not a guy who says that lightly. I am a guy who has faked love his entire life. I thought love was just something idiots thought they felt, but this woman has a hold on my heart that I could not break if I wanted too. And there have been times that I wanted to. It has been overwhelming, and humbling. And even painful, at times. But I could not stop loving her any more than I could stop breathing. I am hopelessly, irretrievably, in love with her. More than she knows."
iii) Marshall and Lily:
They've been acting weird in this episode, Lily's imagining strange situations and Marshall's working out a lot. We finally find out, from The Mosby Boys, that they haven't got their intimacy since Marvin was born. Then we get a sort of summary that shows how each advance in bed is met with a cry from Marvin. Eventually, Ted takes Marvin for a walk, and they get what they want. Everybody wins?
iv) Ted:
Ted's back to douchey tonight. He's got the douche all over, especially with the tilted floors, geometric angles while shooting, and the spontaneous sewing of a C on his jersey. This basketball team represents what Ted did to Victoria just that he wasn't ready to change and now he is. It is a famous thing called 'parallelism'.
The season's back on board, officialy! So, let's celebrate to know that Barney and Robin almost kissed, so poignant, and Patrice might become Robin's BFF, let's hope never! 
Grade: B+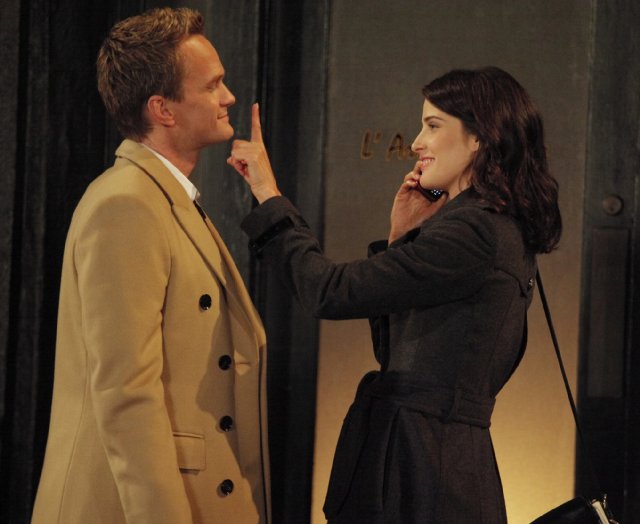 Categories: How I Met Your Mother