| | |
| --- | --- |
| Posted on September 25, 2012 at 10:30 AM | |
By Dhruv Rao
Let's open a box, and see what's inside...
1) "Farhampton": The Cold Open suggests the name of the town in which Robin and Barney get married. She can't actually go through with this. We move on and discover that Victoria doesn't leave a note for Klaus, her sweet German fiance. While Ted perfects her note, we discover that not only is Victoria leaving Klaus, but Klaus is leaving her as well. When Klaus explains that Victoria is almost what he wants, but not completely. The script is mixed with German words, and that's a key element that helps us understand Klaus' message at the end.
2) "Barndore and Roro": The box with their pictures showed us many things: how he may have feelings for her, how he had expected her reaction, and how the knot is about to be tied. When Quinn discovers that Barney dated Robin, he gives her a 52-second summary on the series that has won our hearts for seven years and counting. Now, Quinn has Robin under her control as she makes her one of the bridesmaids. Also, Robin's relationship with her crush Nick has finally started...Well done, HIMYM, skipping some work over there.
3) "New Parents": Marshall and Lily may be the weak part of the episode; however, I think that the aquatic illusions while each one was talking was a little funny. They are really tired, we get it. But, I think there's too much emphasis on that point now. Moreover, Marshall and Lily may form the base to a second plot of the story...
4) "The New Framing Device": They've made it very complicated this time. One is the original device about him talking. Two was this wedding. Finally, Three is the scene where he finally meets the "Mother."!
I felt that HIMYM rushed it a bit tonight, there was a big plot movement, but too less of information. However, I sincerely think that HIMYM has something up its sleeve, with the stories they've been telling us. The opening scene was romantic, and the story being told in this way is what's thrilling me now. We know that he meets her the day Barney and Robin get married in the night near the train station, but we still don't know when that is, or the buildup to it. There is a lot to learn from this episode, and I feel that Marshall and Lily are the only ones with the "Perfect Ending" now, as Ted recounts how getting out of the window is easier than getting in...
The most touching part was when Klaus explained to Ted what the word meant, and how you feel it in your body and soul: it's true love. Barney and Quinn in the cab, Robin opening her season five relationship box, and Ted running away with Victoria. In the adjacent scene, the mother with her yellow umbrella is standing a few steps away from Ted. We're still at the edge of our seats...
Grade: B+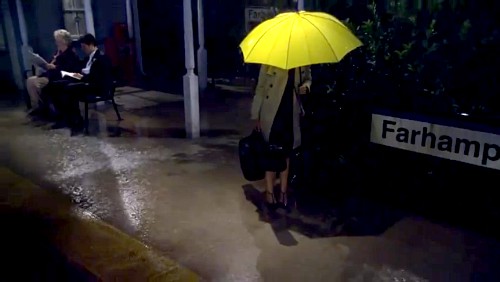 Categories: How I Met Your Mother